Secret Santa Cruz: Tees of Mystery
Or T-Shirt History, NOT the History of T-Shirts
Or …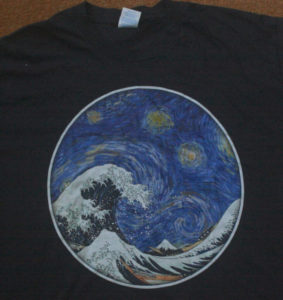 Now that we have our website up again (finally) it seems like the right time to recommend some things (usually it'll be books) for our followers to enjoy. In this case, I want to enthusiastically recommend an unusual website/blog run by a friend of mine. Jim (his full name is Jim Jones, but not that Jim Jones) has always had some unusual interests, although we originally met and became friends because of a mutual enjoyment of science fiction and pulp fiction, especially the good old stuff. I'm talking about the real old-time pulp fiction published in the early to mid-20th century. We both collected the old magazines, the cheesy paperback books, and when we could afford them, rare collectible hardcovers.
Jim and I moved on from that time, me ultimately to a career in bookselling, my friend Jim to the early expanding tech industry and later with the University of California at Santa Cruz. We're both older now and one of us is retired. Jim has published a number of books of his own writings, some of which I'll be featuring later on. But Jim's blog features one of his current interests that I want to promote. His website devoted to t-shirt culture – Tees of Mystery – is a remarkably informative (I might even say "educational") and fun examination of a much overlooked sociological phenomenon – the American graphic t-shirt. We're all familiar with t-shirts that promote products, events, rock shows, social groups, sports, etc., but Jim is the first person I know who has gone to the trouble of examining the origins of some of these as well as many t-shirts devoted to more arcane interests, such as biker groups, petrochemical colonial outposts in the 3rd world, drug and alternative (some might say "hippie" or "surf") culture, and a lot more. One of his recent postings analyzed various promotional t-shirts produced by bookshops. Our shop's 15th anniversary t-shirt is among those featured, I *ahem* mention modestly.
Jim's t-shirt interest started, as these things often do, as a form of collecting. Here were all these really strange t-shirts available for sale for a buck or two at the local thrift shops, sometimes devoted to organizations or events Jim had never heard of before. Over time, the t-shirts accumulated. And accumulated. Hundreds (thousands?) of t-shirts later, Jim realized that many of the t-shirts were related by certain interests or themes. There was actual history here, and thanks to the relatively new data repository called "the Internet", Jim could do research into the obscure (or sometimes the once famous but now forgotten) causes or events these t-shirts commemorated. Jim's collecting hobby has morphed into a most unusual, and in my opinion fascinating cultural/historical project.
Tees of Mystery is an easily navigated and enjoyable blog with many categories of t-shirt featured. A partial listing of the t-shirt categories follows:
Santa Cruz specific shirts devoted to cannabis, surfing, and… banana slugs? Of course!
Unusual business tees, among those featured are tattoo shops and weird grocery stores. You'll have to read the entry to find out why they're weird.
Science/technology t-shirts produced by the American satellite program and a bio-tech company that sells cloning supplies.
Ed "Big Daddy" Roth inspired t-shirts. The classic Revell model monsters live on!
T. Rex tees. What could be more "T" than T. Rex?
And many, many more. Jim's site is a veritable cornucopia of t-shirt lore.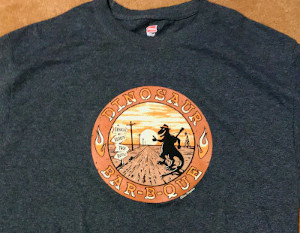 So, if you're tired of the same-old-same-old Instagram/Twitter/TikTok web-stuff and want to do some interesting reading into little-discussed American sub-culture (as expressed in t-shirt graphics), check out Jim's site: Tees of Mystery.
For those of you interested in our bookshop's 15th anniversary t-shirt: Independent Bookies.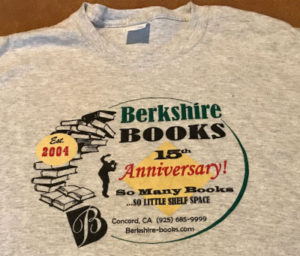 We still have a few left, btw. And tote bags with the same design! (shameless plug)
–LK